Ukunili Ukulele Concert 23' Mahogany Wood 2330M
Ukunili Ukulele Concert 23' Mahogany Wood 2330M

This is a cool ukunili entry level ukulele with Concert  size. It's made with laminate mahogany and it sounds better than just about everything we have played in its price range.


Brand: Ukunili
Bag: Padded bag (Free)
Model: 2330M
Size:24 inches(Concert)
Frets: 18
Strings: High quality Flourocarbon strings
Top: African Mahogany wood
Side: African Mahogany wood
Back: African Mahogany wood
Fretboard: Indian Rosewood
Tone: Sweet, warm tone. 100% user satisfaction guaranteed.
Free Good Quality Sponge Padded Bag
Warranty : 1year
Customer Reviews
01/23/2022
Fast Delivery/ Nice Quality
I'm satisfied with the quality of the product. The seller's attitude was also nice, but what most surprised me was their logistics. It's even faster than the product I ordered from Shopee. It's worth five stars.
Xue Y.

Malaysia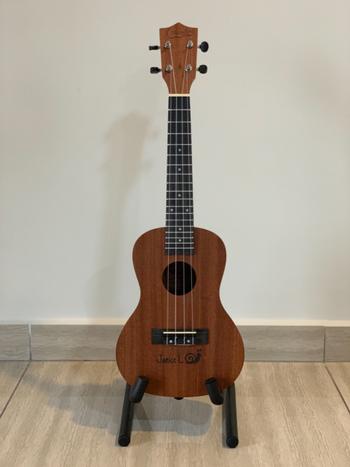 03/26/2021
Good service, product quality and fast delivery
Overall I'm happy with my purchase here. Seller is very responsive to my text messages. The ukulele is in good quality and I love the engraving service!
Janice L.

Malaysia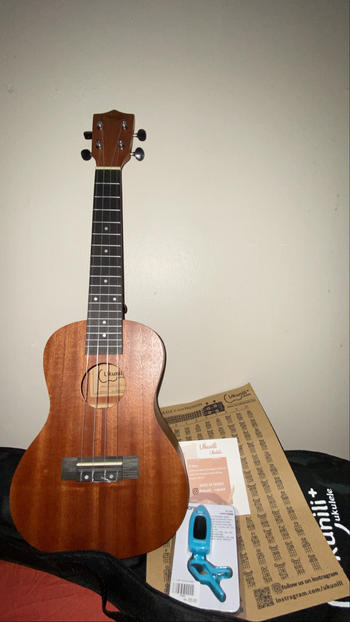 02/13/2021
thank you for the friendly services. the products arrived safely. no damages. the packaging is totally secured my ukulele (from jb to ns). i would recommend you to buy any musical instruments from this shop!
Nurin Q.

Malaysia
02/23/2022
Ukulele
Good quality and affordable
Muhd F.

Malaysia
02/21/2022
service and delivery was very prompt. totally satisfied with our purchase.
Martha E.

Singapore
02/15/2022
Ukunili Ukulele Concert 23' Mahogany Wood 2330M
Fast delivery, recieved the item in good condition the sound of the ukulele is great ❤
Nicole l.

Singapore
10/13/2021
This is BRILLIANT
I ordered this for my baby sis and she absolutely loves it. I played with it and really like it too so I might buy another some day soon The carving on the uke's also done really well and we love it!✨
Harriet S.

Malaysia
09/17/2021
Excellent Customer Service
Delivery was quick and ukulele is in good condition. Customer service is outstanding and happy to accomodate to your needs.
Lily C.

Malaysia
09/13/2021
Excellent quality and super fast delivery
Bought this as my first ukulele and I am so happy with it! The uke has a good tone quality and the wood material is good! Delivery was very fast, and it was well-packed with wrappers so it's very secured.
Debbie O.

Malaysia