Uma Ukulele 26' Tenor Full Solid Mahogany Gloss UMA UK-20ST
Uma Ukulele 26' Tenor Full Solid Mahogany Gloss UMA UK-20ST
A full-bodied tone with plenty of Sweet Highs and Mellow Lows that combine for a full rich sound.A satin finish gives the Ukulele an antique, well-played in feel.You will appreciate the low action and the ease of playability. 
Brand: UMA
Bag: Padded bag (Free)
Model: UK-20ST
Size: 26 inches (Tenor)
Frets: 18
Strings: Premium high density ukulele string
Top: Solid Mahogany wood
Side: Solid Mahogany wood
Back: Solid Mahogany wood
Fretboard: Rosewood
Customer Reviews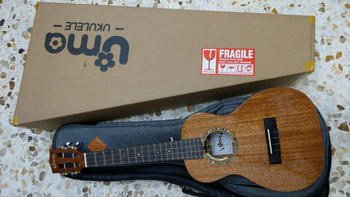 10/22/2021
Uma UK-20ST (EQ)
Shop assisted me to choose the right ukulele for my needs. Delivery was timely, the packaging is secured and protected. The sound of the ukulele is very good, clear and mellow just like a mahogany. The workmanship is very fine and detailed. The size is a little smaller than a usual tenor but still sounds like a tenor! EQ unit works wonders. Fretboard just need some oil. Great ukulele. No regret - right shop to get your ukulele.
KIM T.

Malaysia
01/20/2022
Good service & fast delivery
My son love the ukulele very much. Thanks for your services.
Teo A.

Malaysia